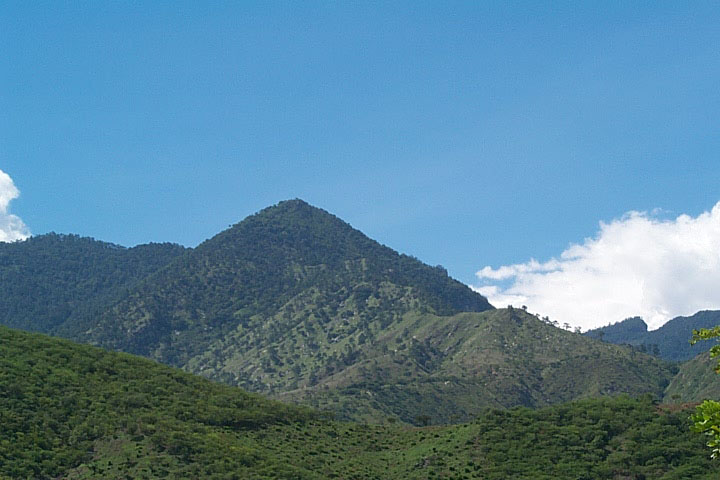 Ventana Mining Company was founded in 2001 as a mineral exploration and development company. Ventana, (window, Span.) derived its name from a landmark feature in the Sierra de las Minas mountain range of eastern Guatemala known as "La Ventana" (shown at right).
In 1998, Hurricane Mitch produced floods that exposed boulders of a variety of types of jadeite in an unexplored area in the upper reaches of the Rio Jalapa south of the Motagua Valley of Guatemala. Following this discovery, Ventana was awarded mining concessions by the Guatemalan Ministry of Mines.
To date, we have outlined wide zones of jadeite jade mineralization through sampling and extensive mapping programs. To our knowledge, there are no undeveloped jadeite jade deposits that exist in the world that are of comparable size.
Now, Ventana is a transitional phase from a mineral exploration and development company to a junior production concern.
Please contact us if you would like additional information about the company.
---
WEBSITE CITATIONS & ADDITIONAL REFERENCES
Foshag, W.F., 1957, Mineralogical Studies on Guatemalan Jade: Smithsonian Miscellaneous Collections, v. 135, n. 5., 60 pp.
Gendron, François, Smith, D.C., and Gendron-Badou, A. (2002) Discovery of Jadeite-jade in Guatemala confirmed by non-destructive Raman microscopy. Journal of Archaeological Science 29, 837-851.
Hargett, D. (1990) Jadeite of Guatemala: A contemporary view. Gems and Gemology 26, 134-141.
Harlow, G. E. (1994) Jadeitites, albitites and related rocks from the Motagua Fault Zone, Guatemala. Journal of Metamorphic Geology 12, 49-68.
Harlow, G.E. and Sorensen, S.S. (2001) Jade: Occurrence and metasomatic origin. The Australian Gemmologist 21, 7-10.
Jones, Julie, editor, 1998, Jade in Ancient Costa Rica: The Metropolitan Museum of Art, New York, 127 pp.
Keverne, Roger, 1995, Jade: Lorenz Books, New York, 376 pp.
Lange, F.W., editor, 1993, Precolombian Jade – New Geological and Cultural Interpretaions: University of Utah Press, 378 pp.
Liddicoat, R.T., 1995, Gem Reference Guide: Gemological Institute of America, 270 pp.
Markel, Stephen, editor, 1992, The World of Jade: Marg Publications, Bombay, 124 pp.
Proskouriakoff, Tatiana, 1974, Jades from the Cenote of Sacrifice, Chichen Itza, Yucatan: Peabody Museum of Archeology and Ethnology, Harvard University, Cambridge, 217 pp.
Seitz, R., Harlow, G.E., Sisson, V.B., and Taube, K.A. (2001) Formative jades and expanded jade sources in Guatemala. Antiquity 87, 687-88.